How Market Segmentation and Positioning Will Help Retailers Survive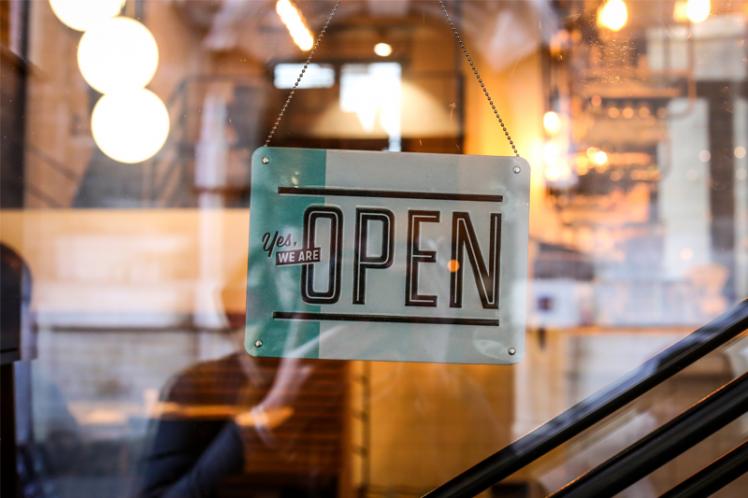 I want to make three points in this article:
The first concerns the myth of the so-called disrupters.


The second spells out the importance of getting basic marketing strategies right.


The third sets out what an organization needs to do, but particularly retailers, to compete successfully in the fast-changing technology environment.
The first myth to dispel is that 'disrupters' have caused the wave of retail closures and declining profits. It certainly wasn't Apple that almost killed the music industry. Nobody asked Apple to invent iPods, iPads, easy music downloads etc. Apple just invented ways to make life easier and more enjoyable. 
Compare this with Blockbuster. In 2008, they had over 600 stores and a turnover of approx. £300 million. Although they eventually started an online rental system, it was too late – the company didn't really believe that the future was in digital downloads and online ordering because those in senior positions had a retail background and their priority was to save the physical store at all costs. Their online division appeared to have been treated as inferior to traditional retailing, with the possibility of cannibalizing high street stores.  Even sadder is the fact that Blockbuster customers loved them, and the company had millions of bytes of data about customer purchasing behaviour. 
The message here is that any organization, not just retailers, must understand the evolving picture of consumer behaviour across online and offline channels. 
There are, of course, countless examples of retailers failing to appreciate changing attitudes and behaviours. Amazon did not wipe out retailers; it was poor customer service, stock-outs of popular sizes, poor ranging and so on, which did that when a better option came along. I could write at length about retail software programmes that simply don't capture the consequences of what happens when popular lines go out of stock and only make the problem worse.
  
Needs-based market segmentation


Another major problem that many retailers fail to understand, is something I will call 'needs-based market segmentation.' I believe needs-based segmentation is the foundation of continuous financial success.
That is, consumer needs-based segmentation, as opposed to a major focus on many business school topics like socio-economics, demographics, geo-demographics and the like. (After all, Ozzy Osbourne and Prince Charles are both in socio-economic group A., but you couldn't say they behave the same!). 
The truth is there is no such thing as a customer or consumer. They are all different, so we must look for groups with the same or similar needs, a.k.a. 'segments'. 
This is also a good time to mention the hype around millennials and generation Z. Using millennials as an example, arguably these classifications are not relevant; they are spread evenly across different attitudinal groups. If you lined up five millennials and asked them several questions, each would disagree with the other, whilst older people are just as likely to agree with a millennial as disagree. This stereotyping is a completely inaccurate representation to frame your rationale, in the same way as it would be to group together a nationality or ethnic group. Marketers would do just as well targeting Aquarians or Librans…
In any market, there will be a least ten segments of customers with the same or similar needs.  One example is from the consumer travel industry. This major international travel agent uncovered ten different segments of travellers and we show only two of them here (disguised for confidentiality reasons):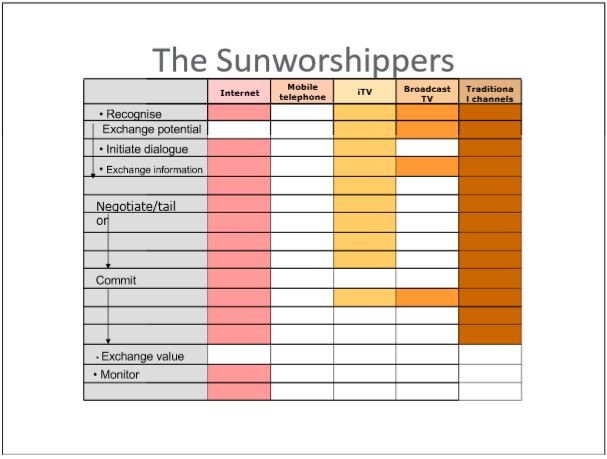 Down the left of each Figure is the model of the Cranfield sales process. It will be observed that this is an interactive, dyadic process, involving both supplier and consumer. Along the top are the channels used by the consumers in each segment, represented by the shaded areas against each step.
Even a quick glance reveals the very different actual behaviours of consumers in each segment.  From this, it can readily be appreciated that without such knowledge of consumer behaviour and preferences, any kind of offer development and communication programme is likely to be hit and miss at best.
 
The role of market positioning


Closely aligned to market segmentation is positioning. 
2016-17 saw M&S' biggest market decline, driven by clothing, however, I believe its relative decline is more to do with positioning in the market. The brand was founded on a vision of aspirational value and quality that resonated brilliantly with 20th-century views. Yet, even though M&S has a useful and efficient model of online and offline, it, and indeed any organization, must get its market positioning right, in addition to its online/offline mix. 
M&S's middle-market position has become an increasingly unpleasant place to inhabit. In 2018, the brand is working hard to combat the decline in clothes sales by addressing complaints about ill-fitting clothing and overly modern styles. Is M&S really a shop for trendy teenagers? Yet it seems to be pandering to them at the cost of losing its more traditional market. Positioning and branding depend entirely on a deep understanding of the needs of specific segments, rather than trying to be all things to all people. 
Another very recent case is Hunnings (nee Homebase). On 25th May, Westfarmers sold its £740 million investment for just £1! Surely this is one of the most disastrous retail acquisitions of all time. It had renamed 24 of these outlets "Bunnings" which is Westfarmers' brand in Australia.  It also replaced the Homebase management team with Australians who didn't have any knowledge about running a UK retail business. All was not lost, however, as restructuring specialist, Hilco Capital has now injected new money into the business and is taking Homebase back to its roots, with more traditional lines like paints and soft furnishings. Already, Homebase is returning to profitability, despite the likelihood of around 100 store closures. 
This shows how you must know your customer and adjust your model to fit what they want – something M&S have failed to do. The Homebase fiasco was yet another example of poor positioning, instead of starting with the answer and trying to make the problem fit the answer.
  
Advice for retailers struggling with their legacy system


The third and most important issue to be addressed is what advice to offer retailers that are struggling with their legacy system and cultures.
If we were starting a retail business today, everything would be geared towards putting the customer at the centre of the business.
To be truly customer-centric, you must walk across your entire business and think about what you need to do to achieve this. You should consider the implications across your entire value chain and operating model, as customer-centricity touches every part of a retailer's business, from product development to range architecture, from technology to content, from capabilities to processes and from organizational structure to culture. Every aspect of a retailer's organisation must be geared towards delivering a seamless and relevant experience for all core customer segments.
Unfortunately, a general lack of customer-centricity means that disruptive retail propositions have been able to secure significant market share, which in turn has seen many well-known retailers go to the wall and will continue to do so unless they start customer-centric transformation immediately.


It's not about data - it's about customer insight


Most retailers have more KPIs than any other type of business. Sadly, what they really need is insights, which are often lacking. Traffic, footfall, conversion rates, average order values, return rates etc., are outputs - they do not provide insight. For example, knowing that your KPIs are up or down is important, but what you really need to understand is why that is the case and what to do about it.
A focus on forward-facing KPIs, such as customer satisfaction, and less on pure commercial KPIs, will help. If you get the inputs right around customer experience and service, the outputs will take care of themselves. 
As previously mentioned, many retailers today don't even know who their core segments are, yet every retailer has distinct segments of customers, from those who buy in the sale to those who only buy full price, from customers who only buy in one channel to those who buy across all channels.  The key is in recognizing the differences between these customer groups and ensuring you can address their needs appropriately. 
Those with the biggest challenge in the years ahead will be the retailers stuck in the middle, those with a homogenous product and price proposition or a lack of clarity over their value proposition, purpose and relevance, many of whom also find themselves with too many underperforming stores. For these brands, they will need to re-think what their customer value proposition is, how they can maintain the relevance of their products or services and move towards extending the lifetime value of customers to their business. 
For any retail business, range, price and service have always been key. However, today, offering better customer service levels across all channels and focusing on the segments that best fit your positioning, is most important.  
This is just an overview of some key aspects of a multi-faceted problem, which requires a major overhaul of how retailers think and behave.
Become truly customer-centric and harness available and emerging technologies to improve your customer experience across all touch-points – and enhance profitability throughout the value chain as a result – with the new book from myself and Martin Newman, 100 Practical Ways to Improve Customer Experience.