Want to start reading immediately? Get a FREE ebook with your print copy when you select the "bundle" option. T+Cs apply.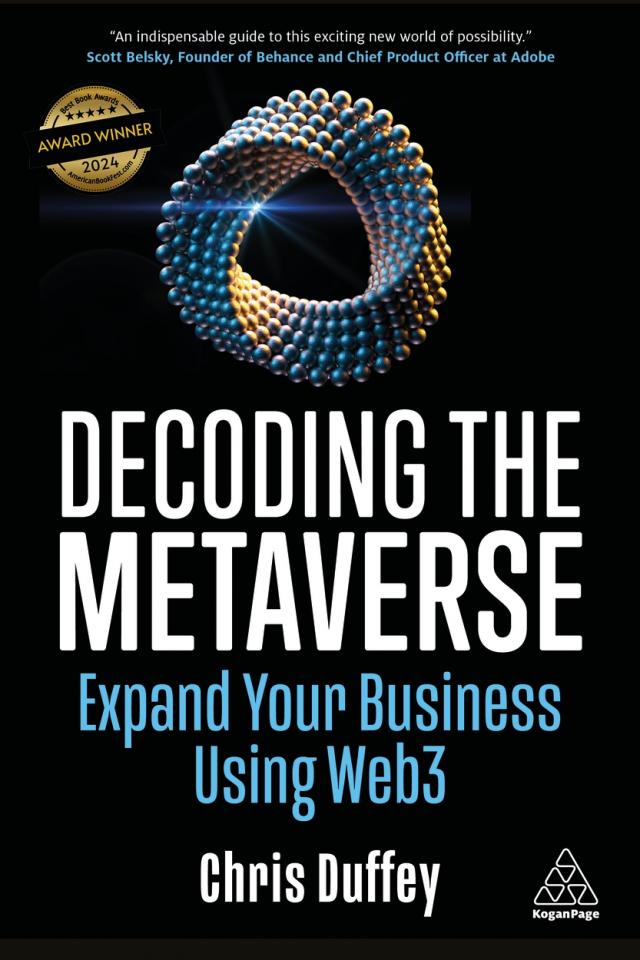 Decoding the Metaverse
Expand Your Business Using Web3
Get your business involved in the metaverse and learn how to build your company's presence within Web3. Engage with emerging case studies from prominent brands and see the benefits of the metaverse first-hand.
EAN: 9781398609044
Edition: 1
Published:
Format: 235 x 157
368 pages
About the book
Discover the profitable business opportunities within the metaverse and learn how you can and why you should get your company involved today.

In Decoding the Metaverse, Creative Cloud strategist and Web3 expert Chris Duffey establishes a roadmap for entry to the metaverse. Written to help businesses get a handle on a complex new business opportunity, the book begins by explaining how previous iterations of the internet led to the creation of immersive digital technology with Web3 before detailing the building blocks of the metaverse.

The book takes readers through the future of digital spaces, offering insight into immersive experiences, customer engagement, product-led growth and profitability. The chapters focus on the building blocks of the metaverse, including NFTs, blockchain, tokenomics, gaming and virtual real estate. Each chapter is paired with a corresponding case study from well-known brands currently working in the metaverse. Decoding the Metaverse ends with guiding principles about the ethical ramifications of immersive experiences and digital governance.

Throughout Decoding the Metaverse, Duffey highlights the importance of reaching customers through shared immersive experiences. Showcasing the potential impact of working with Web3, he explains how companies can use these opportunities to further their reach and grow their revenue. Readers will step away from the book eager to get their companies involved today.
About the authors
Chris Duffey spearheads Adobe's Creative Cloud strategic development partnerships across the enterprise space. Based in New York City, New York, Duffey serves on the Board of Directors for Association of National Advertisers New York (ANA NY) and the Consumer Technology Association's (CTA) Board of Industry Leaders. The author's work has been featured in The Wall Street Journal, The Guardian, Adweek, Adage, Cheddar, The Mirror, The Drum, Campaign, CMO.com, New York Post and Business Insider. He has been recognized as one of "the industry's leaders on the top issues, challenges and opportunities in the fast-changing world of mobile marketing" by Business Insider, one of the leading minds in AI by Qualcomm and voted the #1 Boldest Digital Health Influencer Award by New York City Health Business Leaders. Duffey is the author of Superhuman Innovation, also published by Kogan Page.
In his comprehensive new book, Chris Duffey breaks down the building blocks of the next generation of immersive and surprisingly empowering and delightful experiences - the so-called 'metaverse.' The creative minds and companies that understand and embrace these opportunities first will enjoy a tremendous advantage in the gold rush of the next digital age. Duffey's book is an indispensable guide to this exciting new world of possibility.

Scott Belsky, Founder, Behance; Chief Product Officer, Adobe
Get tailored expertise every week, plus exclusive content and discounts