Food Retail Polarisation – Upmarket and Discounters – where next?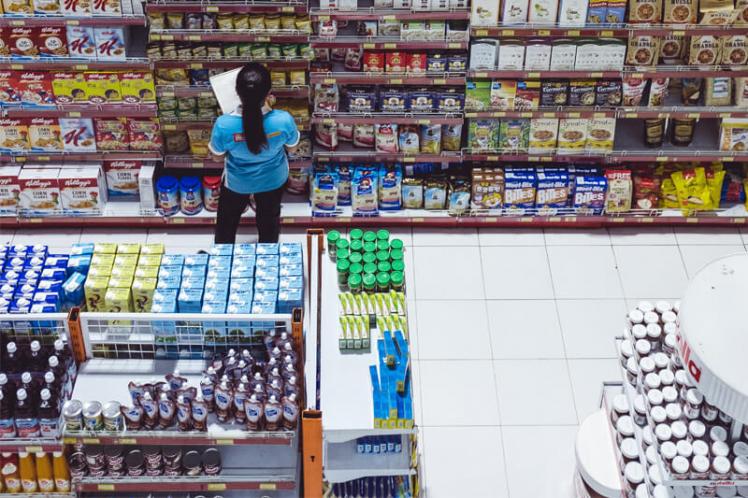 Three significant trends are driving the shape of food retailing in the UK, namely:
   1. The growth of the food convenience store sector
   2. Increasing food purchase via online channels
   3. Polarisation of the sector showing growth in upmarket and discount store food sales
This article looks at what is happening in this last area – polarisation. The market share statistics in the following analyses are taken from two sets of grocery market share statistics:
   1. Kantar WorldPanel market share data of 11 food retailers/ food retailer groups – see table below for companies included
   2. Nielsen grocery market share data of 10 food retailers – see table below for companies included
Companies included in Kantar and Nielsen grocery market share data-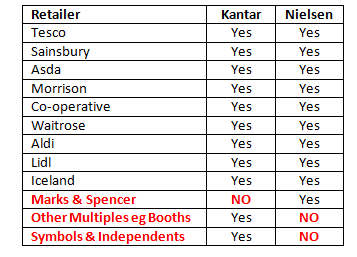 Whilst the base figures for Kantar and Nielsen are different and the individual market share percentage of each retailer will be different, trends will be similar.
Essentially this data is based on the most recent 12 weeks of food retail sales for each retailer. Every 4 weeks (i.e. 13 times a year) the stats are amended by adding in the most recent 4 week sales data and dropping the oldest 4 weeks, i.e. it provides "moving 12 week sales average" every 4 weeks. In this article we have used data from 28 different data updates as follows: 
   1. 2014 – 13 x 4-weekly updates – each update is for the most recent 12 weeks in that year
   2. 2015 – 13 x 4-weekly updates – each update is for the most recent 12 weeks in that year
   3. 2016 – 1st and 2nd 4-weekly update – each update is for the most recent 12 weeks
Aldi sales are showing some overall year-on-year growth but The Financial Times recently reported that Aldi have nil like-for-like growth in established stores – "Analysts point out that the growth rate is the same at which Aldi opened stores over the past 12 months — suggesting that its like-for-like sales were flat. Bruno Monteyne, an analyst at Bernstein, says: 'Aldi's four-week growth of 11 per cent is in line with its space growth, implying its existing stores are now flat on like for like'".
Thus Aldi is relying on new store openings for any overall growth. It is difficult to get hold of accurate figures relating to the number of stores operated by Aldi (and for that matter, also for Lidl). There are occasionally reports about the number in operation which give the following figures -
   • 2014 – 500+ including UK and Eire
   • 2015 – 600+ including UK and Eire
   • June 2014 – a report in the Daily Mail stated that Aldi plan to open 50-65 stores per year in UK and Ireland until 2021. Their aim was to have "1000 stores operating by 2021 and also plans to upgrade existing stores". 
   • 2016 – 700+ by the end of 2016. An IGD report in February 2016 stated that "Aldi UK has set out to open 80 stores this year, recruiting 5,000 new colleagues to support its growth while staying true to its discount model and signature low prices. Aldi will increase its estate to c.700 stores with 80 new stores this year as it continues to implement its two-year £600m investment plan. The focus for Aldi will be on England, Scotland and Wales as expansion into Northern Ireland has been ruled out, with the retailer saying it has no plans to open stores there". 
Unlike its rival discounter, Lidl is still showing "organic" same store growth, although not at the same rate as was occurring a year ago (Financial Times).
Despite much searching on the internet and emails to Lidl UK head office, the only reference to Lidl store numbers is on their website which states "Since establishing ourselves in the UK in 1994, we have grown consistently and today [February 2016] have more than 600 stores, and there are plenty more to come...".
The other feature of the "upmarket / discounter" polarisation of the market is that "upmarket Waitrose" market share has clearly reached a plateau as shown in the market share graphs below -
Waitrose store numbers are shown below -
CONCLUSIONS
Interpreting the data for these groups -
   • Aldi - like-for-like sales through established Aldi stores is showing no year-on-year growth; all sales increase in Aldi is coming via new store openings
   • Lidl is still showing "same store" like-for-like growth
   • "Upmarket" Waitrose has plateaued 
The underlying causes for these varying performances are, as ever in food retailing, due to a variety of reasons –
1. Customer "wants"
a. Aldi have stuck closely to their discount image and range
b. Lidl have been prepared to offer broader ranges including base and de-luxe variants
c. Waitrose has perhaps reached a plateau relative to the number of customers prepared to shop there given the "price premium" to purchase their ranges
2. Logistics – if one considers that, for a customer, this includes the entire range of aspects that will impact on their shopping experience, the following will be included:
a. Product availability, i.e. store replenishment forecasting and delivery
b. Car parking availability
c. Checkout speed – number of checkouts, queues etc.
The major retailers have clearly developed an expertise in their "logistics" offer to their customers. It is debatable as to whether discounter customers will continue to be as tolerant of their current discounter experience of car parking and checkout queues.
Barry Evans and Robert Mason's book, The Lean Supply Chain is out to buy now. This book examines how Tesco built one of the world's most successful supply chains. It assesses Tesco's most important innovations and examines how they are dealing with current challenges.