Operations - A Neglected Aspect of Competitive Strategy Development
The language of business strategy
Business strategy is something of a holy grail for executives; the need to know where you are going and how to get there is crucially important to mounting any effort to introduce change. But a search of business literature shows business strategy is not a clearly defined concept. Goals, means, horizons and priorities all jostle for attention. There are countless perspectives from leading academics and successful business people as to what constitutes strategy.
The language of corporate strategy is most often phrased in the terms of decisions about "what business are we in?"  The answer to this question is determined in part by an understanding of the market scale and potential aligned to the core competencies of the business and the capabilities it can apply or develop. This is frequently framed in the contexts of scale, growth, competition and macroeconomics; in this approach the role of strategy determination is to find positions which maximise the possibility of success. As Jack Welch observed, it is about determining what not to do as much as what to do.
In such a strategy discussion, the role and needs of the customer and the opportunity to disrupt markets can easily be ignored. Customers may be treated as open to statistical modelling rather than an opportunity to delight by exceeding expectations; requirements on operations are regularly assumed to be benchmark rather than 'step out'. Few management authors have explored the idea of strategy of making new markets by disrupting the established order. A notable exception is Johnson, Christensen and Kagermann writing in the Harvard Business Review. They pointed to the opportunity to reinvent the business model by thinking about how business might innovate to deliver value to customers, helping achieve things that competitive offerings don't address. They raised the challenge of how to configure the business operations model to give that customer value with a clear profit formula. The "how" must then be founded on detailed and robust operational design.
Leading or following ~ top down or bottom up?
The question for executives is whether you are leading or following – taking a top down view based on conventional wisdom – or whether your strategy is informed by a fundamental reassessment of what you do for customers and how you go about it?
Practical experience has shown that strategy determination may not be systematically connected with operational realities. There should be a thread running through the organisation that provides the linkage both up and down the elements – a thread that was termed strategic intent in a seminal paper by Gary Hamel and C.K. Prahalad. They observed that most disruptors had not followed the conventional market rules and had known clearly that they were changing the game rather than playing it.
The operating model focus is consistently about business process transformation, with Hammer's maxim being: "don't automate the process, obliterate it". It is clear that process redesign has a role in transformation, but also that it is not a compelling agenda for Boards and strategy making.
Putting customers and processes at the heart of strategy
There should be no question that strategy starts with understanding what the business can do distinctively for customers and how it can do that while providing excellent financial returns. The opportunities that step change in the Business Operations Model can provide are central to being a market place disruptor. The conventional strategy environment should both inform and be informed by the Business Operations Model opportunities (see diagram). 
The bottom up process starts with defining what customers will find exceptional, usually some combination of price, quality, service and lifecycle cost of ownership; with a clear view of what might be compelling for customers, the next step is to work out how to deliver that price and service at the required profit. Successful disruptors have alighted on new formulae to do just that; frequently creating completely new segments or services.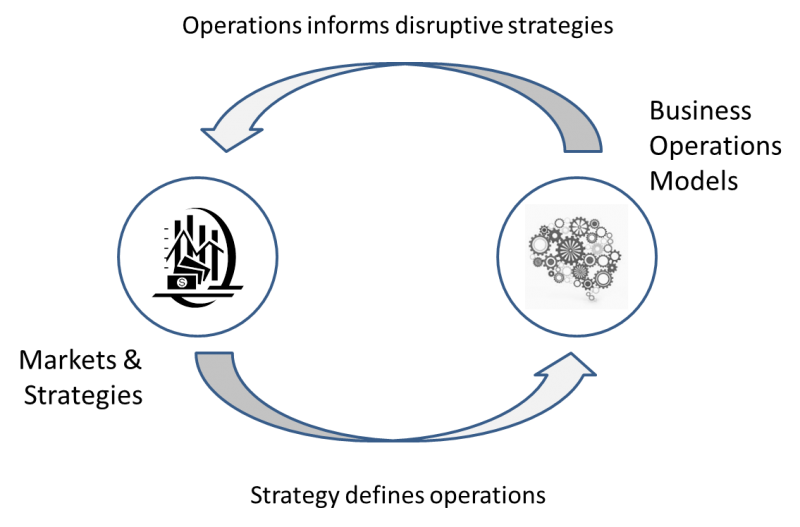 Innovations in disruptive strategy development
The book, Business Operations Models: becoming a disruptive competitor, identifies four disruptor scenarios:
• channel management and disintermediation
• leveraging technologies
• transforming the basics
• radical re-optimisation
It exposes the gap in 'bottom up' thinking and shows through cases that disruptors have innovated through their Business Operations Models. The discovery is that disruption is always attributable to a combination of capabilities that create something completely new. 
Disruptors have often taken many years to become overnight successes. They tend to have painstakingly pieced together the new model based on experience. Serendipity, happenstance or a stroke of good fortune can play a significant role. On that basis, it is time for conventional strategy determination to lighten up and take some cues from what can be made to happen in the engine rooms of their business operations to do things radically differently and so drive growth, margin and return; and  "It is never too late, until it is". Management theory should spend more time learning from failure rather than just pushing gilded futures.
You can read more in Business Operations Models by Alan Braithwaite and Martin Christopher, published 5th May 2015 by Kogan Page.  You can buy your copy now www.koganpage.com