Who is Benefitting from "Black Friday" and "Cyber Monday"?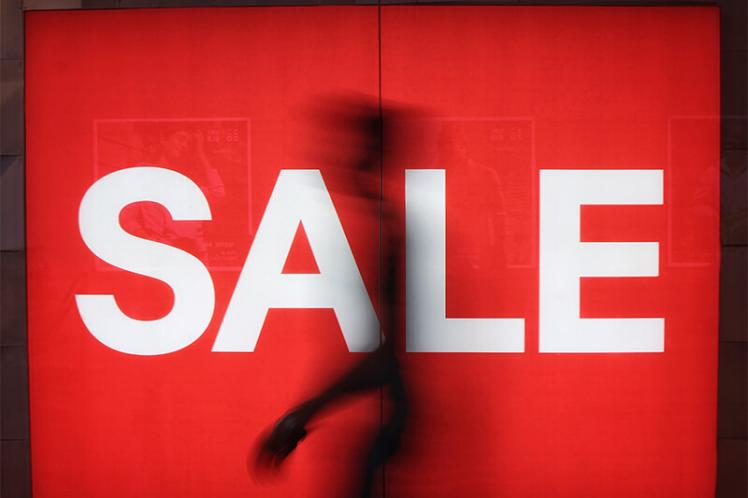 The way we do our shopping is changing. The evidence is now well understood that there are three significant trends changing our food shopping habits –
The polarisation of shopping destination away from the established retailers like Tesco, Asda, Sainsbury and Morrison where market share has declined over the last few years. At the same time there has been major growth in the share taken by "upmarket" retailers such as Waitrose and discounters like Aldi and Lidl.
The significant growth in food spend in the convenience store format combined with the decline in food spend in large-format food stores such as hypermarkets and supermarkets. Thus shoppers now buy "little and often" rather than big weekly and monthly food shopping trips.
The huge growth in online shopping for food.
It's not just food spend that is going online!
Well unfortunately for established high street retailers, it appears that the same trend is occurring for other shopping – what may be termed "pleasure" or "treat" shopping as against "basic" or "boring" repeat shopping for household food, cleaning & laundry essentials etc.
The evidence emerging for "Black Friday" 2015 is best summed-up in the following report, carried in both The Guardian newspaper and on Namnews online report on Monday 30th November
"UK: Retailers Hope Cyber Monday Pays Off After Flat-Footed Black Friday".   
"Britain's retailers are hoping the flat reaction to Black Friday on the high street,
when shoppers preferred trawling the internet to visiting a department store, will
pay off on Cyber Monday as the pre-Christmas discounting spree moves online".
Reports in Newspapers on Tuesday 1st December confirmed that indeed "Black Friday" online sales had indeed grown by 36% (compared to 2014) and had surpassed £1bn for the first time on a single day to £1.1bn.
"Black Friday", the last Friday in November, is a USA event timed in Thanksgiving week and is intended to kick-start Christmas spending. Over time it has extended to the complete weekend after Thanksgiving with the following Monday, "Cyber Monday" tacked on. These events have been adopted in the UK and forecast to benefit those retailers with an online presence to achieve online sales up by 30% to £943m on Cyber Monday. Expectations are for total sales over this four day period to exceed £3bn. Critically the main beneficiary will be Internet shopping with '[Internet-based shopping] stealing the show'.  
Further commentary on the changing consumer behaviour noted
"the absence of midnight [store] openings and crowded shops last Friday" which
"underlined the role of digital shopping in the multibillion pound outlay"
Springboard, a company which tracks shopper numbers, noted that
"the only retail destinations to buck the downward trend brought about by
internet shopping were retail parks, which over the weekend had a 4.9%
rise in footfall on a year ago. Their shopper numbers were down on the
Friday but rose on Saturday and Sunday, probably as a result of shoppers
picking up purchases bought online using click and collect services".
Amazon said Black Friday had been its busiest UK day on record with more than 7.4m items sold, at a rate of around 86 a second.
So is this purely a UK phenomenon or are similar trends occurring elsewhere? According to Namnews/Kamcity commentary - "US: Sales Slump Suggest Consumers Tiring of Black Friday"
"US consumers appear to be turning away from the Black Friday shopping craze,
after preliminary estimates show that sales at physical stores were sharply down
this year. The trend is in line with a wider move against the focus on the day,
traditionally the year's busiest shopping day, with several retailers opting against
offering heavy discounts".
According to ShopperTrak,
"sales were down by a tenth to $10.4bn, while sales on Thanksgiving also fell by 10%
to $1.8bn. Part of this decline was linked to strong online sales, which rose by 14.3%
on Friday (according to Adobe), as well as a decline in customer traffic and average
ticket spending at physical stores".
ShopperTrak noted:
"Shoppers are researching products ahead of time, targeting their store visits,
and arriving in store with the intention of making a purchase".
Conclusions
These events give added credence to IGD forecasts of the changing consumer spend via various channels. Online growth is the channel forecast to show the greatest percentage increase – see table below.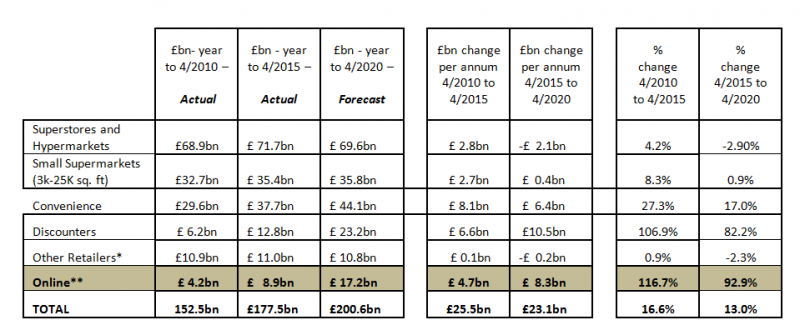 The combined change – Actual 2010 to 2015 + Forecast 2015 to 2020 for the three channels showing large growth are -
   Convenience stores £29.6bn up to £44.1bn + 49%
   Discounters  £ 6.2bn up to £23.2bn +274%
   Online   £ 4.2bn up to £ 17.2bn +310%!!
This single fact alone should provide sufficient incentive for online retailers to ensure a robust and effective online capability through the whole process.
Online Browse -> Order Capture -> Simple Payment -> Effective Delivery -> Returns Process
And here is the "sting in the tail". Stuart Higgins, LCP Consulting, made the following comments on Tuesday December 1st
"Black Friday's web orders alone equated to around 22m parcels, with a
similar volume generated on Cyber Monday. A staggering 10% of that won't be
delivered on time and that's because Retailers haven't got their
back end fulfilment capabilities – organisation, processes and infrastructure-
in place to cope with the marketing hype that has been created".
In further comments he questions whether this sort of performance will eventually bring this event into disrepute!
Barry Evans and Robert Mason's book, The Lean Supply Chain is out to buy now. This book examines how Tesco built one of the world's most successful supply chains. It assesses Tesco's most important innovations and examines how they are dealing with current challenges.