Want to start reading immediately? Get a FREE ebook with your print copy when you select the "bundle" option. T&Cs apply.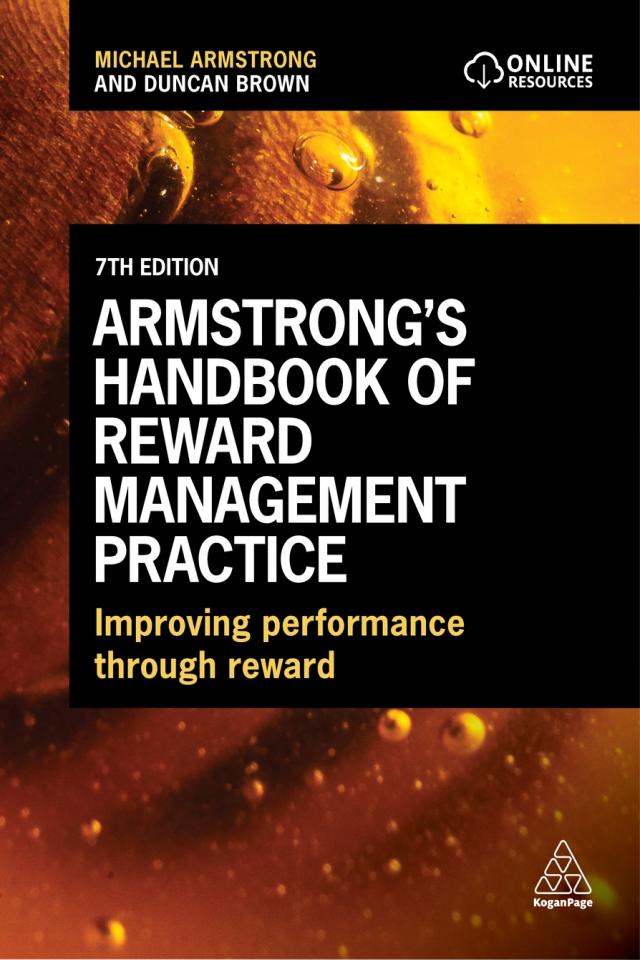 Armstrong's Handbook of Reward Management Practice
Improving Performance Through Reward
The definitive guide to improving performance through reward and recognition policies and processes by leading human resource management expert Michael Armstrong.
EAN: 9781398611122
Edition: 7
Published:
Format: 240 x 170
448 pages
About the book
Armstrong's Handbook of Reward Management Practice is the essential guide to comprehending, developing and implementing effective reward strategies.

This updated seventh edition incorporates the latest research and developments within reward management, including the reward implications of Covid and the 'great resignation' and rewarding remote and hybrid workers. Revisions also contain updates on reward structures, equal pay, employee benefits including wellbeing benefits, total rewards and smart rewards. This book covers all the crucial aspects of improving organizational, team and individual performance through reward processes, including financial and non-financial rewards, job evaluation, grade and pay structures, rewarding specific employee groups and ethical considerations.

Armstrong's Handbook of Reward Management Practice bridges the gap between the academic and practitioner and is ideally suited to both HR professionals and those studying for HR qualifications, including master's degrees and the CIPD's intermediate and advanced level qualifications. Tips and checklists and can be found throughout, alongside case studies from organizations including General Motors, and the UK National Health Service. Online supporting resources include lecture slides and comprehensive handbooks for both lecturers and students, which include learning summaries, discussion questions, literature reviews and glossaries.
About the authors
Michael Armstrong is the UK's bestselling author of HRM books including Armstrong's Handbook of Human Resource Management Practice. Based in London, UK, he is a former Chief Examiner of the Chartered Institute of Personnel and Development (CIPD).

Duncan Brown is an independent rewards adviser and researcher. He has more than 30 years' experience with employers including IES, Aon Hewitt, PwC and Willis Towers Watson. He also spent five years as Assistant Director General and head of research and policy at the CIPD.
That book has been my bible. This book is the Reward go-to reference point for academics and practitioners alike; the launch pad for a thousand reward schemes, research projects and student dissertations. I have drawn on it to teach Strategic Reward to Masters and MBA students. From two renowned experts in the field this latest edition has been substantially updated to cover contemporary topics. It's the only Reward book you will need.

Carol Woodhams, Professor of HRM, Surrey Business School and HR Magazine's Most Influential HR Thinker of 2023
Get tailored expertise every week, plus exclusive content and discounts