Are you prepared for what's next?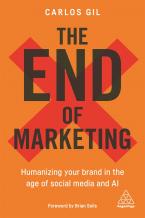 Traditional marketing as we know it, is dead. In an era where a YouTube star gets more daily impressions than Nike, Coca-Cola and Walmart combined, businesses are struggling to stay relevant. 
Here Carlos Gil, the award-winning digital strategist, explains that no matter how easy it is to reach potential customers, the relationship between brand and consumer still needs the human touch. 
Introduce yourself to the new world of marketing - download an exclusive sample chapter below.