Make Data Beautiful and Results will Follow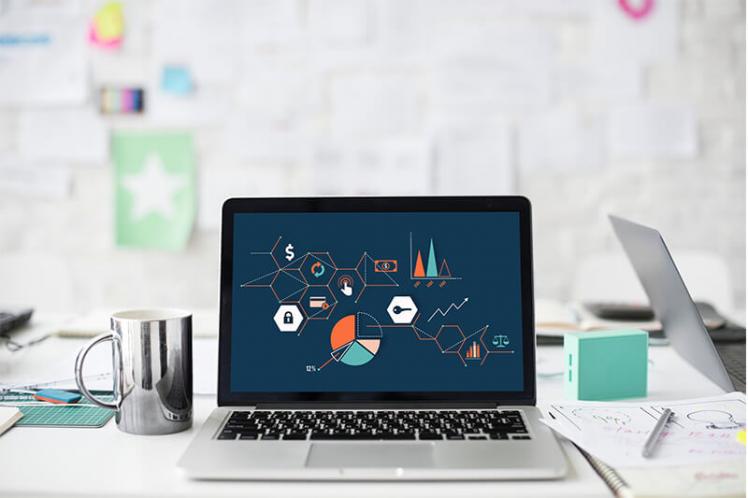 The Importance of Breaking Free from Excel and PowerPoint
HR and organization design practitioners are missing a big opportunity when it comes to the way they use their data.
In this interview, Rupert Morrison he puts the case for a new approach to data and shares some of the visual graphics that support his arguments in the book.
Q: What does 'data-driven organization design' actually mean?


For a start, it doesn't mean moving boxes around organization charts in PowerPoint or spending hours changing numbers in Excel.
It means fully understanding the connections between people, roles, processes and objectives from across the organization. In practice. what does this look like? Well it also includes modelling organizational scenarios and then tracking changes over time to ensure you are delivering your strategy.
Q: The word 'data' has a nasty tendency to make people glaze over. Why should they sit up and take notice of what you have to say?


If you don't, you will be left behind. And more importantly, you won't be fair to your people. Far too often those who shout loudest get ahead, even if they are not the best people. A data-driven approach helps transparency, equality and engagement.
I understand that data can seem scary, but nowadays you don't need a maths PhD to do some amazing things with it.
For example, the image below shows one of the ways you can make data exciting and engaging. The visual has the CEO at the centre with direct reports in the first circle and then further reporting lines moving outwards all coloured by engagement.
It is so much more effective than Excel for giving an overview of the organization and providing instant insights into where the focus is needed.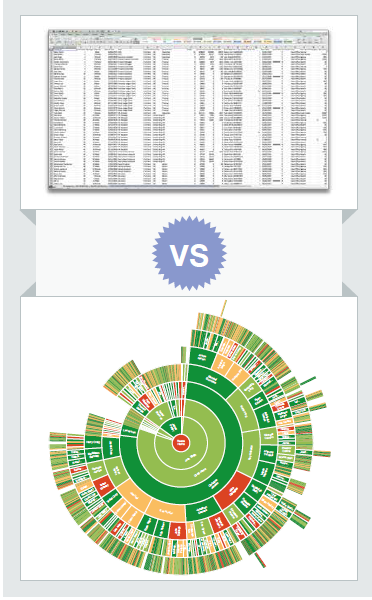 A lot of people talk about data quality as an issue but you have to get over it. Data will never be perfect. It is only by using it and visualising it that it will improve.
The key is to get started. The value will come, and quickly.
There are lots of ways to gamify the data collection and cleansing process, from visualising data quality itself as a dashboard to crowdsourcing information gaps from across the organization via surveys.
Below you can see a dashboard that gives you an understanding of what data you have, where you have gaps and which data are incorrectly formatted.    
Q: What sort of business problems can be addressed by this?


The list is endless! You can think of this in two distinct areas, specific business scenarios and longer-term cultural shifts across the organization:
Business scenarios – Business transformation such as mergers or acquisitions, organizational restructures, changes in target operating models and geographical expansion can all benefit hugely from a data-driven approach. You can model organizational scenarios to ensure you make proactive rather than reactive decisions and get your best people doing the most valuable activities.


Cultural transformation

– Embracing a data-driven approach creates a truly agile organization. For example, you can improve engagement by clearly defining the work that someone needs to do, feeding back to them their performance alongside structured feedback, and providing suitable opportunities for stretching their skills for future work.
Q: Are there examples of organizations that have been turned around by applying this approach?


A couple of recent projects I worked on stand out. In the first instance, a global transportation company wanted to better understand their cost base, pricing and services supplied to each customer.
We ran an individual activity analysis through a survey to find out what activities everyone was spending their time on. By connecting people to processes and how much time they spent where, we were able to show the hidden cost of low-value activities to the business.
The idea of linking activity costs to people is an area of huge value to all businesses which was why it was such an exciting project (an example of a process tree connected to cost is below).
A second example was with a major UK insurance firm that was looking to manage a post-merger integration.
This involved creating and transitioning to a new organization design. We modelled the two organizations and ran scenarios to test the impact of proposed changes before doing a competency-based assessment across employees to assess who would be best placed in the new structure.
This was hugely powerful as the process was faster, more secure and more accurate than had previously been in place and the results so far have been hugely promising.
Q: How is your book designed to help someone interested in applying this to their organization?


My book helps with the entire organization design journey, from articulating strategy and high-level design, to getting to grips with your data and focusing on how each role should be defined and the skills required to fulfil that role.
I placed a lot of emphasis on the second half of the book, 'Micro Design and Making it Real'. The former because too often organizations do huge wholesale redesigns at massive cost when they could have focused on a specific area and made improvements without the need for such a big disruption.
The latter, because OD is not a one-off. It is not an executive exercise but an ongoing, dynamic process that needs to be managed and tracked over time. Designs are there to deliver strategy, and strategy must then be delivered and measured.
My intention is that readers will find the book to be extremely practical, with plenty of examples of data visualisations and step by step methods and processes. It is for any senior HR, Strategy or Operations practitioner.
In fact, anyone looking to improve organizational effectiveness has a huge opportunity to do more with their data and I hope this book will help them to take advantage of it.