Do millennials have an impact on your B2B marketing?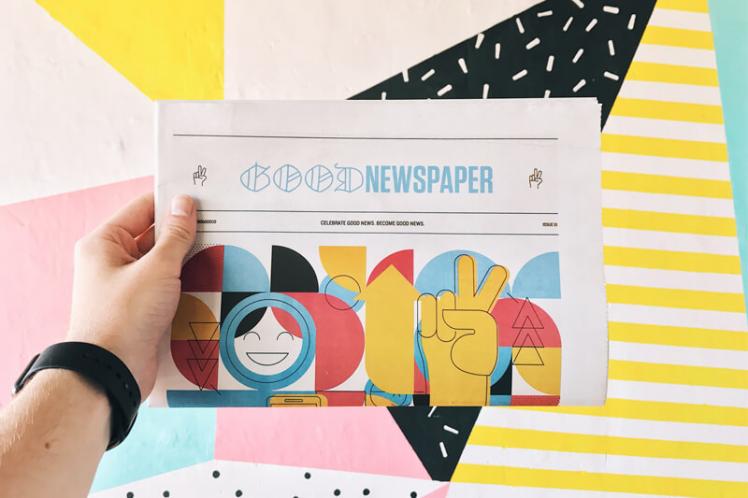 Do millennials have a real impact on B2B marketing? Simon Hall, author of Innovative B2B Marketing, explores their influence and how B2B marketers can align campaigns with it. 
The topic of millennials and their impact on marketing has become popular in the B2C and consumer realm, yet it's now increasingly being discussed in the B2B space too. Should B2B marketing departments adapt their marketing and campaigns for millennials? How do they change their marketing; what areas should they look at; where should they start?
Before diving into this, let's look at millennials as a group. Millennials are defined as those born between 1985 and 2000, making them between 17 and 35 years old.  According to labour statistics reported, they now account for over 40% of today's workforce, and by 2020, expect to account for approximately half of it.
Some characteristics that millennials exude – which in themselves could impact businesses and B2B marketing – includes online consumption habits; the use of social media; their approach to sharing information; listening and response rates; their approach to companies and brands; how they share information; the desire to co-create and collaborate; and how they respond to outbound and inbound marketing.
Other characteristics that companies and B2B marketers should be aware of include the need to access information, which as potential customers, means you should be allowing them to readily access information regarding your company's product and service. Inversely, a lack of information about your company or product, may mean you miss out as a potential vendor for this target audience.
According to statistics, millenials are online for an average of 25 hours a week, therefore any marketers looking to reach customers will need to have a strong online marketing mix.  It's also important to consider the extremely high usage of mobile devices. From a B2B marketing perspective, having a mobile optimized website and response site is now a very basic requirement, so mobile marketing activities should form a decent part of your communication when targeting this consumer group.
Millennials in general, are also great collaborators and enjoy co-creating, therefore including them in solutions or for feedback on how things can be improved is important. Dell was probably ahead of its time on this when in 2005 it launched 'idea – storm': a community-led online channel for product and service design.
Another key characteristic is their propensity for sharing information. Millennials don't regard information as something to pay for, which for companies or B2B marketers, means millenials are unlikely to respond well to any gated content or long-field forms.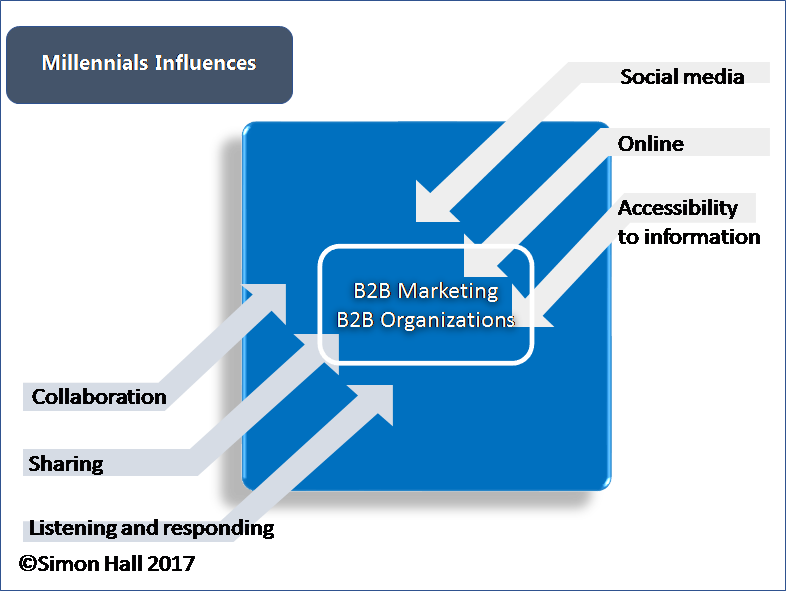 This diagram highlights the things B2B marketers need to be aware of regarding the influence of millennials on their marketing. BUT DON'T WORRY, there is a good chance you won't need to transform your business or marketing totally to appeal to them. Here are six reasons why…
       Social media trends
Firstly, the trend to social and online (although massively adopted and potentially accelerated by millennials), has occurred across a wider societal group, thus your company is likely to have already shifted some of its marketing communications to social media channels.
       Online marketing trends
Aside from the social media evolution, there has also been a dramatic shift to marketing via online channels, which has occurred increasingly over the past two decades, and as such, the majority of B2B marketers will already be accounting for a shift to digital and online channels.
       Workplace mix and the decision making unit
There is still a large percentage of the workforce that does not fall under the 'millennial' umbrella, therefore, vendors will need to ensure they are marketing to each consumer group strategically, from millennials, to baby boomers, to Generation Y. As a B2B marketer, you are also targeting a group of decision-makers, known as the decision making unit (DMU), so the same rule of accounting for other groups applies.  
       Nature of B2B marketing
B2B marketing is typically more rational and more information-based, which means the content needs to focus more on informing and educating, rather than being too aspirational or emotional.
       Customer centric and customer profile driven marketing
Effective B2B marketing starts with a customer profile or detailed buyer persona, to ensure it captures each personas needs, communication requirements, content requirements and media consumption. In this way, B2B marketers can already be adapting their marketing to millennials as part of their buyer persona mix.
It is no secret that millennials have been influencing all areas of marketing and decisions for quite some time, however, it's important to monitor any increasing shifts as millennials continue to grow within the workplace, as they're expected to become 50% of just that within the next five years.
About the author: Simon Hall is a marketing innovator with over 20 years' experience in Technology and Services Marketing. He has served as UK Chief Marketing Officer for Dell as well as many senior roles at Acer, Microsoft and Toshiba, and in 2016 Simon founded NextGen Marketing Solutions. He is also a Course Director with the Chartered Institute of Marketing; a B2B council member with The Institute of Direct and Digital Marketing (IDM); the Internal Consulting Group's (ICG) Global Thought Leader for B2B Marketing; a member of the CMO Council; and a member of the European CMO Council.
Liked this? Sign up to our newsletter here and receive more content like this straight to your inbox.
Innovative B2B Marketing by Simon Hall is now available. Save 20% with code BMKB2B20 when you purchase the book from Kogan Page.